100% Natural and safe
RECOGNIZED AND CERTIFIED DISINFECTION COMPANY
We are experts offering a wide range of contracts and specialist Sanitizing products and services for both Individual and business customers. We are flexible, and we adapt to your working hours and presence.
100% natural Disinfectants that kill 99.95% of pathogens!
Imagine your environment so clean that even with the help of a microscope you have trouble finding bacteria ... An environment free of allergens, bacteria, and viruses? An environment free from mold and dirt? ... Then you have come to the right place, and we have the solution for you.

We are the leading provider of customized Tunnels and powerful Disinfectant Ecolyte+ all over the United Arab Emirates.
Our sanitization and disinfection services go beyond basic services and provide you with a complete sanitizing tunnel along with disinfectant for free of cost for the specific term according to the agreement. Our disinfectant is 100% natural, safe for health, and powerful against all types of germs.
Customized and specialized Sanitization Tunnels
Free disinfectant for tunnels till the end of Agreement
Friendly 24/7 customer service
Are you concerned about
the health and safety of your family?
We are here to bring you the highest demanded disinfection Products, including revolutionary meat & Seafood disinfectants - 100% Natural.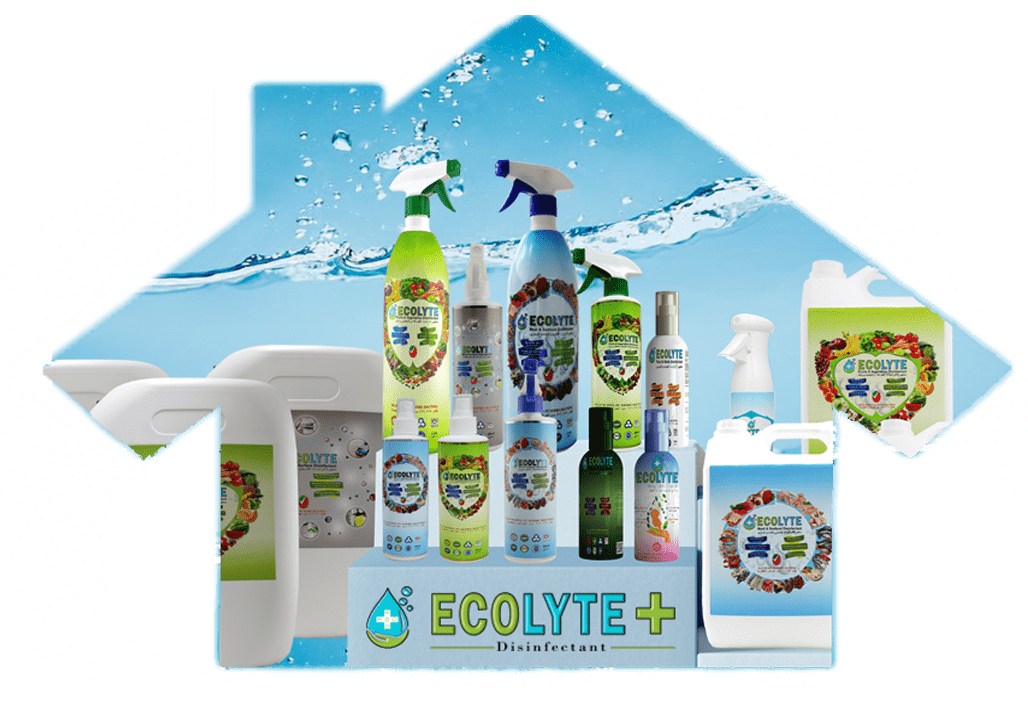 DISINFECTANTS
Our disinfectant , the "ECOLYTE +" is a 100% natural and safe, hypoallergenic, effective in killing 99.99% of germs, non toxic, non alcoholic, non-hazardous, non flammable, non irritant and non corrosive. It is high-level disinfection and sanitization product, which is free of hydrogen peroxide, Alcohol, copper or silver ions, aldehydes, dyes & fragrances,
GET SERVICE NOW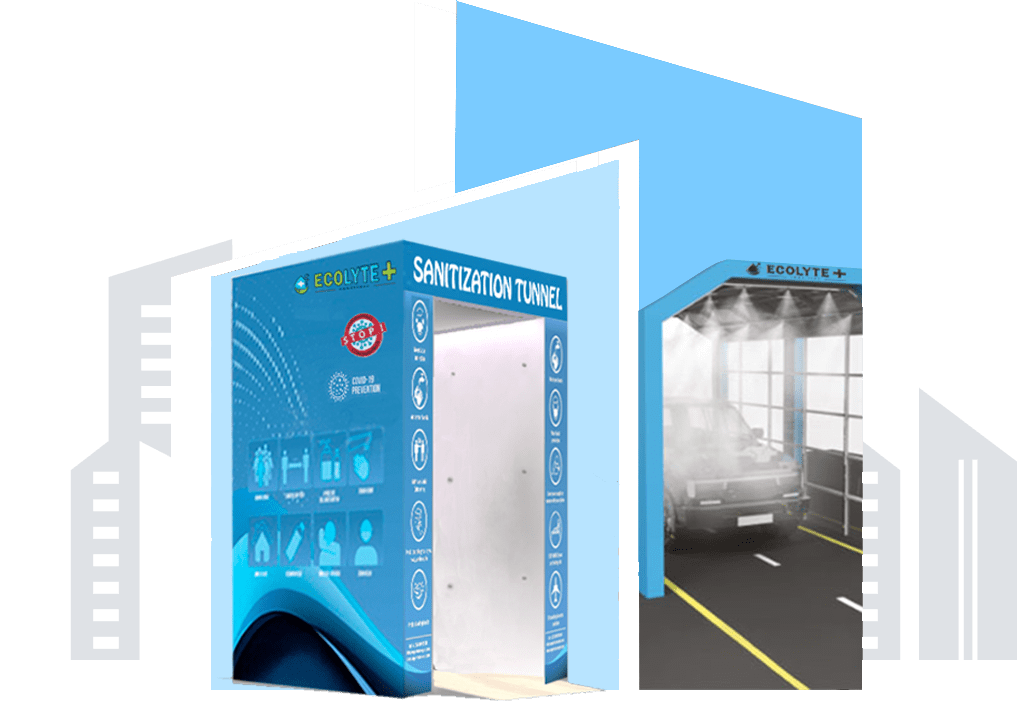 ECOLYTE+ TUNNEL
"ECOLYTE +" Tunnel is used for epidemic detection in high traffic and high density areas. It provides safety and efficient services for the passenger, such as non-contact body temperature measurement with thermal imaging sensor, hands-free disinfection and 360 ° atomization disinfection for people, pets and other objects. The system is connected to a laptop / computer which will notify the security guard for a secondary inspection if the passenger's body temperature is too high.
GET SERVICE NOW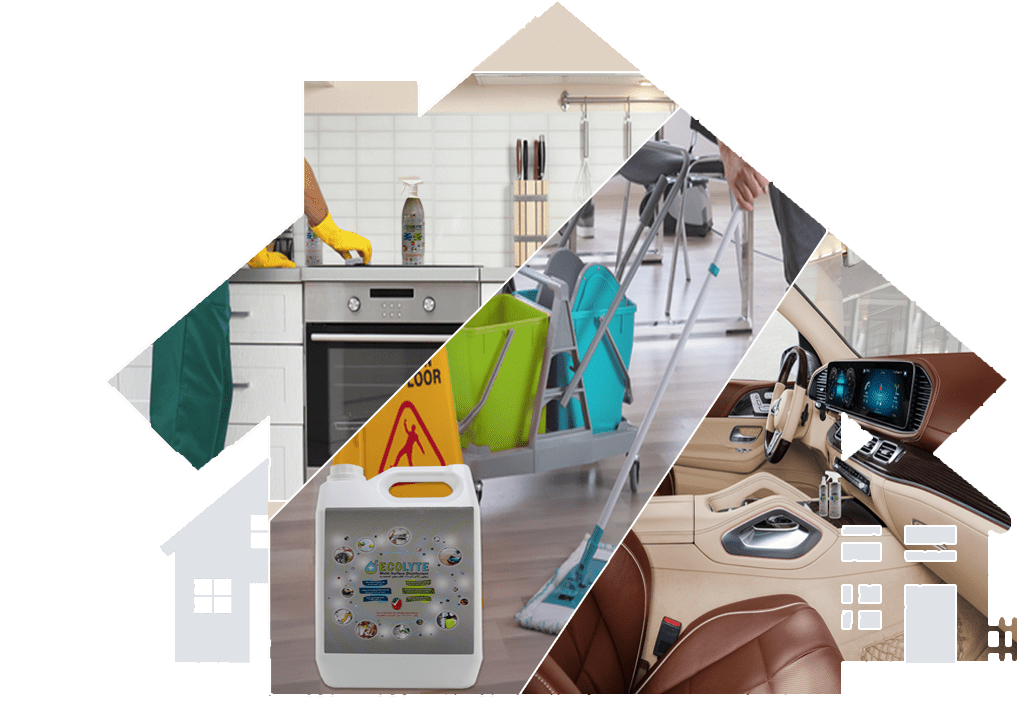 HOME & CAR DISINFECTION
In this new wave of Covid19, it became mandatory to disinfect your car especially Public Transport such as Taxis. So, we have an economical and super disinfectant for you, "Ecolyte Multi-Surface Disinfectant", which kills viruses and bacteria, leaves a pleasant smell in the car, and has zero effect on your health. This product you can also use for any surface like tables, AC duct, Fridge, Washing Machine, etc.
GET SERVICE NOW
What to Expect
You get more than what you expect
We are proud that our highly efficient disinfectant "ECOLYTE +" is produced locally (in UAE) by our professional and qualified technicians and staff, and contributing to tackle the COVID epidemic out of the beloved country of our sheikh ZAYED.
Unlike other alcoholic and chemical sanitizers, "ECOLYTE +" is non-irritant to eyes, skin, & the respiratory tract. Even if one ingests it by accident, no harm is caused.
Ecolyte+ is Non – Alcoholic
Ecolyte+ is Non – Flammable
Ecolyte+ is Non – Corrosive
Ecolyte+ is Non – Toxic
Ecolyte+ is Non – Irritant
Ecolyte+ is 100% Natural.
QUESTIONS & ANSWERS
What are the ingredients in your product?
We use 100% Natural HOCL (Hypochlorous acid) with a neutral PH, which we produce in our industry under the supervision of Highly professional Chemists.
Are Ecolyte+ products Expensive?
Ecolyte+ Sanitizing product is the cheapest disinfection product in the market.
How much Sanitizing Solution do I get with Tunnel?
You will get Sanitizing product for Free of cost as mentioned in the agreement.
What if someone Drinks Ecolyte Disinfectant?
There are no side effects on Health whether someone inhales it or drinks the solution.
Where can I find Ecolyte+ Products?
You can find our products in our
WEBSITE STORE
. We are also present in all the major online and physical stores across the United Arab Emirates.
I feel a Clorox like odor, is it bleach?
No. Ecolyte products don't contain any bleach. The smell is actually due to active Chlorine in Hypochlorous Acid (HOCl).
Is Ecolyte+ Certified?
Yes. Ecolyte+ approved by Federal Government through the Emirates Authority for Standardization and Metrology (ESMA) & Dubai Municipality (DM). We have fully integrated ISO certification, having ISO 9001:2015 ( Quality Management System), ISO 22716:2007 (Good Manufacturing Practice), ISO 45001:2018 (Occupational Health & Safety Management System), ISO 14001:2015 (Environmental Management System).
What Brand Names Have You Private Labeled For?
Due to confidentiality we do not disclose our client list. Many of our client's products can be found in places like Noon, Amazon, Carrefour, Wemena & Tradeling Online Store in the UAE.
Will You Keep My Product Idea Confidential?
Without the consent from our clients, any information given to us is treated as confidential. We do not share lists with companies or disclose any information related to your business with us to anyone. Your confidentiality is important to us and will be treated as such.
What Are Your Capacity Capabilities?
We are one of the largest natural disinfectants, hygiene & cosmetic private labelers in the UAE. Our minimum order quantity is 500 units but our per month unit capability is 4 million units per month at our current capacity. We currently on average roughly 2 million units per month.
How Much Will My Private Label Project Cost.
This question will depend on so many factors. Our pricing is tier based so larger discounts are afforded for large quantity orders. To get an idea please look at
our private label
price list which will give you pricing for many of our commonly ordered private label products. If you do not see the product you are looking for please send us a custom quote request and we will get you pricing.
Are All Your Products and Fragrances Listed on Your Website/Pricelist?
No. We do not want to confuse our clients. We currently manufacture over 10,000 skus of products. If you do not see a product/fragrance/ flavor you'd like listed on our website/pricelist, please click the request custom quote link and we will give you a quote based on your needs.
What is your minimum for private labeling?
Our low minimum for private label is 500 units. Our low minimum for bulk and wholesale pricing is 250 pounds per variation. Please note the respective minimums cannot be broken up into multiple variations. Each scent, color and size are considered one single product and the MOQ's are per variation..
Can i change an ingredient on one of your stock formulas?
Yes, we are a custom facility and we can certainly tweak and come up with custom formulations for you on any product.
Do you test on animals?
We never test anything on animals. Fowl, fish and fur babies are our friends.
Can you duplicate products or fragrances from another company.
This is evaluated on a case by case basis. If we accept the contract, we will need a 4 oz. sample of the product along with the ingredient deck. It will not necessarily be a true reverse formulation (meaning we cannot guarantee exact ingredient concentration); but, we can do a method of figuring out the formula based on the sample and ingredient list.
Can you provide COA and MSDS sheets for the products you manufacture.
Yes, we can. We can provide the COA and MSDS for any product we manufacture so you can comply with big box retailers and Amazon FBA requirements.
How much does it cost to have a sample produced?
No setup or branding fee for 15000 Liters of Natural Disinfectants ordered. No Formulation or manufacturing fee for more than 15000 Liters of Natural Free personalized design and artwork for orders of more than 15000 liters of Natural Disinfectants. Zero cost for getting International certificates and ESMA approval for more than 15000 Liters ordered
What about the packaging?
Our packaging abilities include almost any bottle or tube. We offer a great selection of stock packaging or you can use your own custom packaging choice. Just send us a sample of your packaging to see if it will qualify to be filled by our equipment. Once you have decided on the packaging for your project you can order your packaging, and simply have it drop shipped directly to our warehouse. If you want us to source your packaging, then we can certainly do that as well.
Can i provide my own packaging?
Yes, if have your own packaging you can send it directly to our facility for us to use in the production of your product. We may ask you to send us a sample, so we can assure that the packaging will fit through our production line equipment.
What is your lead time?What should I expect on my first appointment?
We have one of the fastest lead times in the industry. On most orders the lead time is 7-10 business days. This lead time starts once we have all the info we need from you to begin such as formulation approval, artwork and packaging approval.
Are you familiar with shipping to amazon FBA process?
Yes, we certainly can ship your private label products directly to Amazon for you.
Can i tour your facility?
We hold Non-Disclosure agreements with all our customers and honor their privacy, so we are not at liberty to offer client visitations in our production facility. We do have a client area where we can meet with you and discuss things and go over samples should you want to visit and meet with us. But please note the production facility of our building is off-limits to non-employees.
I need to send containers, labels or samples to you. How do i do that?
Please make sure your vendor marks the box with YOUR name on it. We receive an enormous amount of stock packaging through our facilities, so it is hard to determine one customer's packaging from another. Please send packaging for products that are approved for production to:
What if I have a hand sanitizer that has no alcohol?
Hand sanitizers without at least 60% alcohol don't consistently kill germs. we highly recommend to use
ECOLYTE+ GMP & ISO Certified Hand Sanitizer Gel
(70% Ethyl Alcohol) with Moisturizer and Made with WHO Recommended Formulation Kills 99.999% Harmful Germs.
GET AN ESTIMATE
Send us an email and we will reach you.