Ecolyte Multi-Surface Disinfectant: How it Works
In today's society, there are very few things that we're prioritizing more than our health and safety. The (presence) of germs has been brought to people's attention like never before.  We are now aware that our lovely houses, from their single doorknob to the smallest corner of our bedrooms are the nest of many germs that in many cases negatively impact our lives and those of our beloved ones. And who among us is not looking for the "Super" way to remedy that – and we want to do the same thing here today by bringing ECOLYTE+ MULTI-SURFACE o your attention.
1. Introduction to Ecolyte+ Disinfectant
Ecolyte+ is a disinfectant manufacturer based in the United Arab Emirates. Our brand offers a unique line of products. Our disinfectant , the "ECOLYTE +" is a 100% natural and safe, hypoallergenic, effective in killing 99.99% of germs, non toxic, non alcoholic, non-hazardous, non flammable, non irritant and non corrosive. It is high-level disinfection and sanitization product, which is free of hydrogen peroxide, Alcohol, copper or silver ions, aldehydes, dyes & fragrances,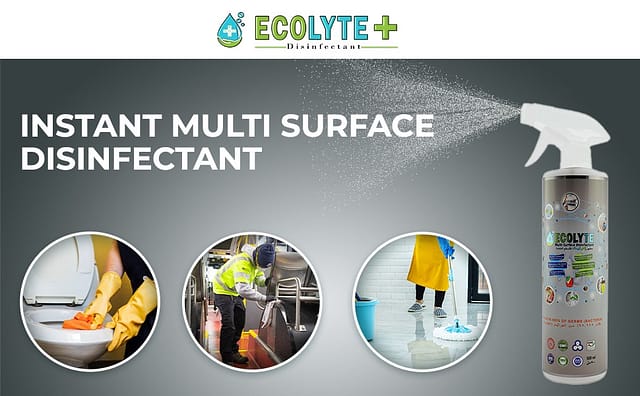 2. How Ecolyte Multi-Surface Disinfectant Works
Ecolyte Multi-Surface Disinfectant is made from Pure Electrolyzed Water(HOCL) natural disinfectants and has been tested with both industrial and medical guidelines. This product completely natural and safe product, effective in kills 99.995% of pathogens, including bacteria, mold, dirt, viruses.
3. Advantages of Using Ecolyte Multi-Surface Disinfectant
Ecolyte Multi-Surface Disinfectant is safe and gentle, making it suitable for use in both commercial and residential settings. Its versatility allows it to be used on hard surfaces and most fabrics, making it a one-stop solution for disinfecting your entire home. Additionally, it is easy to use and does not cause any irritation, allergic reactions, or harmful results.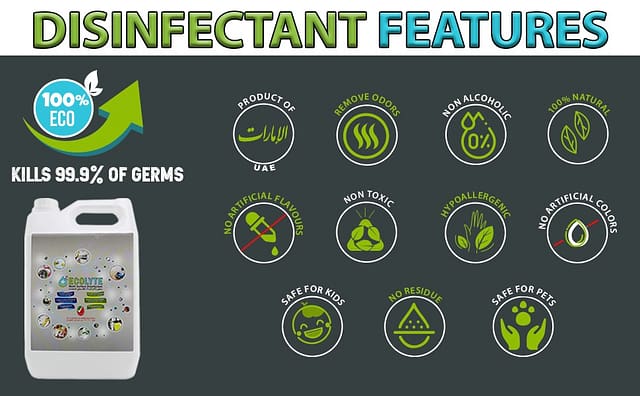 In conclusion, Ecolyte Multi-Surface Disinfectant is an effective and safe solution for cleaning and disinfecting your home. With its natural composition and versatile use, you can trust that it will effectively kill 99.995% of pathogens. Be sure to check out our products by clicking the link at the end of this article.
You can find Ecolyte  Multi Surface Disinfectant Products on Our Online Partners : Amazon, Noon, Tradeling