Why We Recommend ECOLYTE Nano spray gun + MULTI SURFACE DISINFECTANT?
With the recent surge of contaminations, Its becomes mandatory for everyone to disinfect houses, premises and surroundings area in order to tackle viruses, bacteria, and mold etc. Thanks to the technology, we today have many devices like foggers, Nano spray gun, humidifiers & more which make our life easier. However, The challenge is to be able to find a proper disinfecting & sanitizing liquid which will have no side effects on fabrics (curtains, carpets, sofa…etc.) and human skin. Unfortunately, many still use foggers or Nano spray gun with bleach liquid or alcohol or similar skin`s blemish. Instead, our company Ecolyte+ has specially developed ECOLYTE MULTI-SURFACE DISINFECTANT which is made from Pure Electrolyzed Water and which has no side effects on human skin, nor on pets (even on aquatic life), nor on fabrics and nor on our environment. This give you the confidence to protect your own life, also relatives and colleagues life`s without any compromise or doubt.
Is there any risk of using ECOLYTE MULTI-SURFACE on fabrics, skin, etc.?
We only offer the best quality products that are safe for anyone to use. All our disinfectants are 100% Natural, non-toxic, non-corrosive, and environmental friendly. Studies (from the W.H.O, the U.S.F.D.A) has demonstrated that the use of ECOLYTE MULTI-SURFACE DISINFECTANT which is made from Pure Electrolyzed water (HOCL) is safe for people, plants, pets & in professional and domestic environments. It`s ideal to disinfectant Baby toys and accessories, baby feeding chairs, air conditioner window, counter top, toilet area, kitchen area equipment, floors, dustbin, shower bases, doors, tap handles, sofa, hand bag, keys, table & chairs, automobile steering/gear, doorknobs, mobile, computers, and any other common indoor and outdoor touch points..
How Do I Use Nano spray gun ?
Ecolyte Nano Sprayer gun is great device for disinfecting a house a whole house or workspace without the need to find power outlet. In fact, it can disinfect an entire room In 2 to 5 minutes. To operate it, users just need to add ECOLYTE MULTI-SURFACE DISINFECTANT in the refill bottle and spray all the high-touch surfaces, indoors or outdoors. Try it and you will enjoy.
Lightweight: The Ecolyte nano spray gun weighs just 6.4 oz in its refill bottle and is an excellent choice for the out-of-doors where it can still get a good spray while saving carrying weight and wearing a backpack. Easy to use: In 2 to 5 minutes, Sure nano spray gun will disinfect an entire room. It is super light, so you can easily carry it with a backpack to spray anywhere in a house or office. It only takes 2 to 5 minutes to put it to work. Pick Up & Go Portable. Product Features: Amaze your friends when they try your awesome spray technology. SPRAY ALL THE SURFACES WITH STERILE ENVIRONMENT, NO DUST & NO SMELL! Compact & Portable, just put it in the drawer when you don't use it.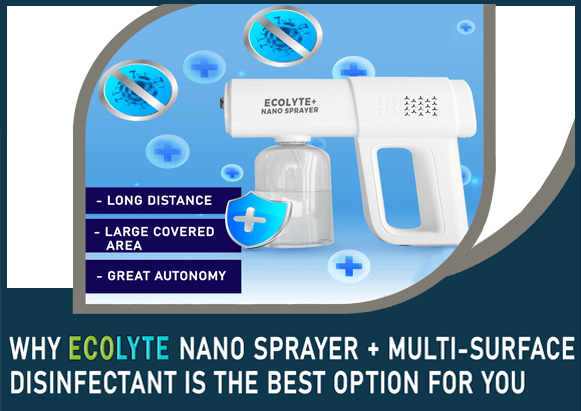 1.Ecolyte Multi-Surface Disinfectant is 80x times higher and powerful than bleach and Kills 99.995 of the Germs, Bacteria, Viruses, mold, etc.in few seconds only, Its non toxic, non alcoholic, non irritant, non hazardous, Suitable for all types of industries and home uses.
2.Comprehensively disinfect purify the environment, cover a wider area, and take care of every corner of your house, premises or place.
3.nano spray gun with dual-speed control, free adjustment of high and low gears, simple and easy to use, convenient and quick to operate.
4.Hand-held convenient operation, rechargeable battery where wireless movement is convenient and unlimited.
5.Custom made high-pressure air pump and adjustable atomization nozzle to achieve nanometer atomization output.